The Easy Quit Marijuana Audio Program by the Cannabis Coach
A Review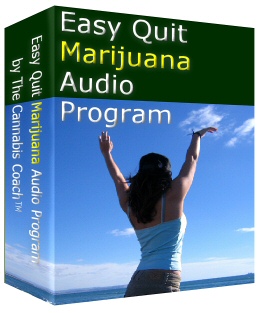 Hey, Michael from Kick-Addiction.com here,
This is my review of the easy quit marijuana audio program by Gary Evans who calls himself the Cannabis Coach. However the product name is so bloody unwieldy everyone just calls it the Cannabis Coach.
Note: This is a review of the Cannabis Coach, if you are looking for the official website click here
I am writing this review because there are a lot of scams on the net for various products and wanted to provide a real and honest review of this program to those battling marijuana addiction which I know can hook into your mind stronger than many other drugs. I really want my site to give you some serious help if you are in that situation.
I will be brutal and honest though and discuss the good and the bad points so if you are simply looking for a fluff review this will not be it!
First up is the pedigree of the course creator Gary Evans.
Gary is an ex pot head himself who struggled with an addiction to marijuana for many years. Gary discovered through trial and error the reasons for his addiction and developed a plan to be able to tackle them and the cravings and put it into action to be free of weed himself. This to me shows a certain presence of mind that I admire and then put these thoughts down into his audio product. I do believe Gary's experiences with marijuana have really helped him understand what it is to be a slave to cannabis which comes through very strongly in the Cannabis Coach course.
The creation of the Cannabis Coach
Gary says he tested his product before releasing it on the internet with a group of 15 people who trialed it. All of these cannabis addicts ended up quitting smoking weed for good through this course which is an impressive statistic. While I do believe this is a good thing to do and to show off i know that such a small group cannot be considered a feasible study of the absolute effectiveness of the program. Without knowing much about these people either it makes it hard to treat it as absolute proof. However, all cynicism aside I do believe it is a feather in Gary's hat to have such success early on and my own conversations with those who have used it do reinforce that it helps.
Lets look at the Cannabis Course Itself
Right, down to the meat of this thing and what you actually get. The full course has two components: A 5 Part MP3 Audio Course and 10 worksheets

The Audio Course – Click Here For an Audio Sample
I both like and dislike the MP3 audio course i must say. I think it is a very good idea and really lets you hear everything Gary has to say without needing to read. You also get a good idea of who he is which I think is very beneficial to being able to trust what he is sayin
g. Gary is clear and articulate but it is not overly edited or cut together, it is in fact quite raw which may put some people off who want some flashy production but to me i found it was more engaging that if he made sure to edit every 'umm' and 'ahh'.
What i do not like about it is not that there is no transcript of what he says. Each part is about an hour long which is sometimes long than people have to listen and if you get distracted you need to reverse and find your place. I do think this would benefit in having a transcript of his audio so that you can either read along with it or just read if you find your ears are getting a little tired.
Overall i prefer the fact he has chosen to do an audio course rather than just another e-book but be prepared to have limited reading. Maybe he will include a transcript one day but listening to Gary break down everything into understandable pieces for you to digest and use to quit smoking cannabis is a good move.
Click here to visit the Cannabis Coach Website for more information
The Worksheets – Click Here For a Worksheet Sample
This is a nice addition to the whole program and i think is quite essential. I am a big fan of writing stuff down and making plans to follow and these already created worksheets that Gary uses through the course are very helpful to take the chaos that is sometimes in your head when you are addicted to something and making it solid and real and unchangeable on paper. This is a part of the whole process that you start to work through in the Cannabis Coach where you gradually understand your addiction, your emotions and your cravings and then and only then can you make a plan to overcome them.
In fact, i would say in some ways the plan is the ultimate thing. You might already know most of what Gary is saying to some degree but the value and the beauty of the entire course is the way it can give you everything you need to make a personalized plan that works for YOU rather than some generic words of encouragement.
The cost of the Cannabis Coach
This is something I become a little annoyed about. Not the cost of the cannabis coach though, the attitude of people who think that $39.95is too much to pay for something that can help you overcome an addiction that can ruin your life and cost you much more money in the long run! I do not know what the cost of marijuana is nowadays but from what I have heard this might equal the cost of a few days to a weeks supply of marijuana.
It also comes with a 60 day refund policy if you feel it did not work for you so it is risk free and this risk is guaranteed by Clickbank which is a site that handles all the transactions independently whose entire policy is to give refunds if asked within 60 days.
In short I feel this course is well worth the money you pay especially since it is risk free anyway.
Testimonials
"I started smoking when I was 15 and now I'm 56, you do the math. I planned on May 1 to start and haven't looked back since. The first week every time I had the urge to smoke, I would read the cannabis work sheet the showed the money I wasted but especially the part where I was born not smoking and not smoking is natural. I had no withdrawal symptoms and now I don't even think about it. using the money I saved each week to do something for myself that was positive and was also a good inducement to not smoke. I can say if you only give it a try and be honest with yourself it will be easily done with little effort. Keep up the Good work and try to help more. You can always use me for a reference if you wish. Thanks for the kick in the butt" Dennis Adams
—
"I would like to thank you honestly for your support, it means alot to air how I'm feeling & it's just 5 days now until I've been clean for a whole month! I can't wait. I am going to party real hard (but not too hard!).
It's late right now, but I couldnt go to bed without letting you know how grateful I am your site is on the web! Keep up the FANTASTIC work."
Jason Nelson, United States
—
I am so happy that I am smoke free. I am so proud of my self. My friends all "talk about how hard it is and how did I do it..but mainly because of your sessions. I have saved money which was a major reason why I wanted to give up. Also I was getting big panic attacks, though those will continue to happen untill the pot is totally out of my system apparently."
Nikki Byers, Australia
Click here to visit the Cannabis Coach website
---
| | |
| --- | --- |
| | All self help guides reviewed on this site come with a 100% money back guarantee so if you are not satisfied with the product you can contact the publisher for a refund allowing you risk free purchases. Kick Addiction will never promote any guide that does not adhere to this code of conduct |